Gita Life – Quench Your Quest
February 11 @ 6:00 PM

-

March 26 @ 7:00 PM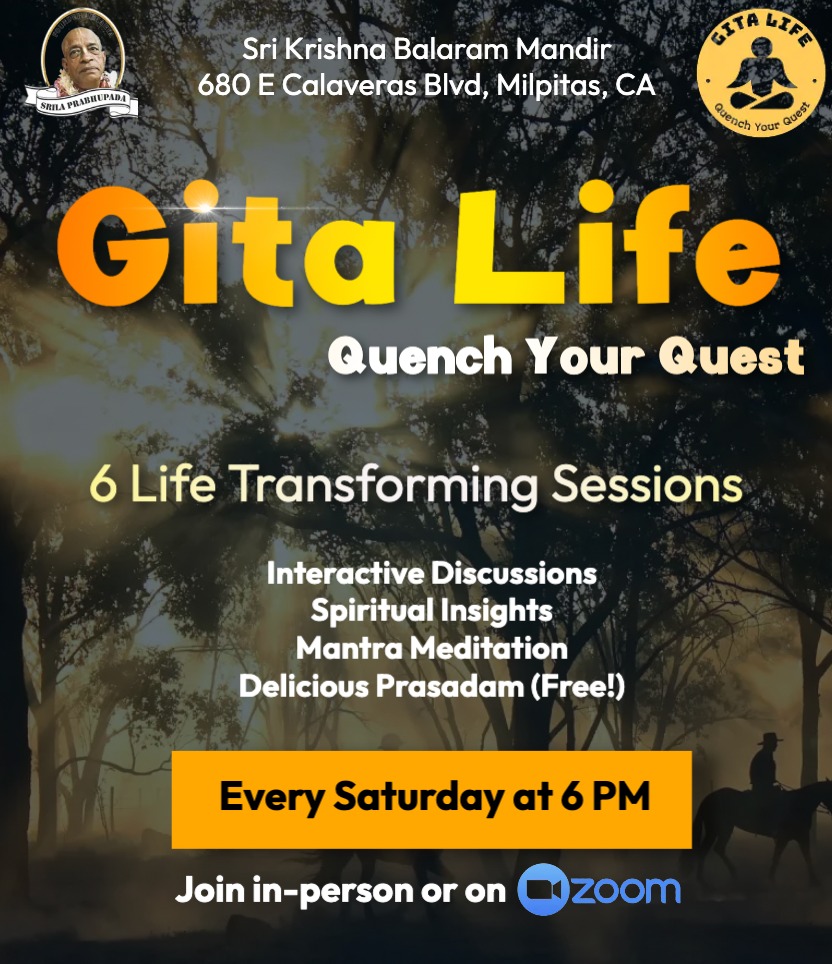 "The two most important days in your life are the day you are born and the day you find out why." – Mark Twain
We are born is past information, but knowing why we are born will bring transformation.
Learn the essence of life and Gita in six sessions of "Gita Life Course". Quench your quest and enjoy this journey toward stability, wisdom & bliss!!
Bhagavad Gita is also known as Gitopaniṣad. It is the essence of Vedic knowledge and one of the most important Upanisads in Vedic literature.
One who is ignorant of scientific knowledge of the spirit soul does not look inside the body to find happiness in the soul; instead, he goes outside to search for happiness.
Gita is directly imparted by Krishna and if we accept Bhagavad Gita as it is, we are full of knowledge.
Glimpses Of 6 Sessions:
Session 1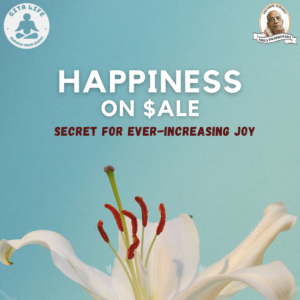 We begin the course by understanding the basic similarities and differences between humans and animals. This analysis helps us realize the special prerogative of human life; the ability to reason and offer permanent solutions to the problems of life.
Session 2
For millennia saints and holy men of all religious and spiritual traditions pursued an inner calling of God as a solution for seeking permanent happiness. Is this a utopian idea or for real? Can we logically and scientifically prove the existence of God?
Session 3
A car cannot move on its own; a driver maneuvers it. Similarly the body functions due to the presence of a driver, the soul. The soul pervades the body with consciousness which adds the element of life to the body. What or who is the soul?
Session 4
If God does exist, is He one or many? How do we explain the existence of so many religions and so many gods? What about the plethora of images and forms in Hinduism? Does God have a form or is He an impersonal light that pervades the whole existence?
Session 5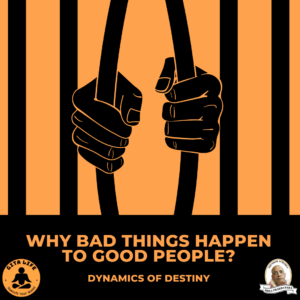 The most popular of the six sessions, this session examines thoroughly the law of action and reaction, also known as the law of karma. The session facilitates the participants to relate to the sufferings of the world more soberly by examining the nature and the purpose of this world.
Session 6
The lessons and experiences of the first five sessions create a need for practical life management program. The concluding session offers a healthy package and schedule.
How Will The Course Benefit Me?
A sincere spiritual practitioner confronts many doubts on his path. Some of these doubts could be harmless but a few others can shake the foundation of our spiritual journey. Therefore a serious spiritualist sharpens his intellect while diligently pursuing his inner connection with God through meditation. A sharp sword cuts off ropes that are tightly entangled. Similarly, scriptural knowledge empowers our consciousness and enables us to break complicated and messy doubts that plague us endlessly.
Besides, transcendental knowledge purifies the soul and offers peace and solace to a practitioner struggling in this turbulent world, and thereby making our internal journey smooth and enjoyable.
Free sign-up: https://tiny.cc/glsignup